I have received some new photos and an update on my adopted panda son An Di. Known as Qing Shan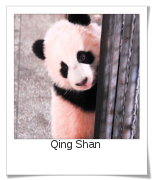 Qing Shan An Di (Adopted name) 青 山 201021 2010-Aug-14 Male CCRCGP Bifengxia CCRCGP Bifengxia Mei Qing - #547 in real life.
"Your adopted baby panda is still living in the Panda Kindergarten. Now your baby is 41.5kg. It has adapted to bamboo and likes eating it more than before as it grows, so it has a good appetite everyday. Besides fresh bamboo, it eats some Wowotou(special cake for pandas), carrots and apples as well. Sometimes the weather is a little hot, so panda babies like to lie on the lawn, or hanging in the fork in a tree, or sitting on the wooden roof to have a rest with their eyes half open. If really tired, they just take a nap on the wooden roof and their posture is extremely cute."
I'm such a proud father :) I'm planning to go visit him in October. Fingers crossed
Hope you enjoy the photos.