Today Tian Tian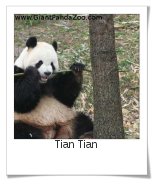 Tian Tian 甜甜 569 2003-Aug-24 Female EDINBURGH Beijing Zoological Gardens Nu Nu - #421 Ying Ying - #369 and Yang Guang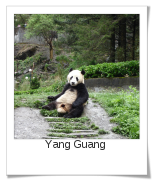 Yang Guang Yang Guang 564 2003-Aug-14 Male EDINBURGH WOLONG Quan Quan - #414 meet for the first time to do their panda duties.
The following is taken from the Edinburgh Zoos Facebook page
"We are delighted to say that today would appear to be the day for panda mating. They are being brought together this morning at around 0930, and then later on in the day – exact timing to be confirmed. If you have booked a panda viewing ticket for today, please turn up as planned and we will try our very best to fit you in to a viewing slot although your timings may be changed. Our Visitor Services staff will inform you of arrangements on arrival. Please note, there are no walk-up tickets available today. We will post updates as we have them. During this time the panda cam will be unavailable."
The images above were taken from the video cameras in the enclosures, just before they were allowed in to each others enclosures.