Officials at Taiwan's biggest zoo said Wednesday they hoped to welcome a pair of giant pandas from rival China as early as November, a move expected to draw millions of tourists to the capital.
Taipei's Mucha Zoo, which was chosen last month to house the endangered animals, has now applied for an import license to bring the pandas to Taiwan as soon as possible.
"Considering the climate, November-December is the best season to move the two giant pandas here," zoo spokesman Chin Shih-chien told AFP.
"If everything goes smoothly, they could be introduced to Taiwan in November at the earliest."
Chin said he expected the pandas to spark a frenzy among Taiwanese animal lovers, drawing as many as six million visitors to the zoo annually.
The move to bring the pandas to Taiwan is yet another sign of the island's increasing openness to China since the election earlier this year of China-friendly President Ma Ying-jeou.
Former president Chen Shui-bian had banned the import of Chinese pandas during his tenure, alleging that Beijing was looking to curry favour with the Taiwanese people through so-called "panda diplomacy".
Beijing made the panda offer during a historic trip to China in 2005 by Taiwan's then opposition leader, former Kuomintang chairman Lien Chan.
The pandas are named Tuan Tuan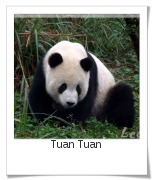 Tuan Tuan 团团 588 2004-Sep- Male TAIPEI WOLONG Hua Mei - #487 Ling Ling - #424 and Yuan Yuan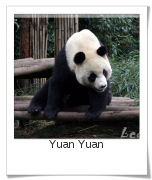 Yuan Yuan 圆圆 587 2004-Aug-30 Female TAIPEI WOLONG Lei Lei - #374 , which comes from the Chinese word "tuanyuan", or "reunion" in English.
Taiwan and China split in 1949 at the end of a civil war. Beijing considers the self-ruled island to be part of its territory awaiting reunification, by force if necessary.
China, which has used panda diplomacy worldwide since the Cold War, has reportedly made at least three other attempts to give pandas to Taiwan -- none through official channels.
Beijing's pandas usually come with enormous rental fees, which US zoos have recently complained about, but the Chinese have said there would be no charges for Taiwan.
Taipei's city government says it has invested about 250 million Taiwan dollars (eight million US) to build a panda house.