If you're free this Saturday Morning and live near Zoo Atlanta, then you might want to book a space at a special event "Coffee and Cub Conversations" where you can meet the folk who look after the latest bundle of Panda fun at Zoo Atlanta.
If you go please send a warm welcome from PandaNews.org, and let us know how it went.
"Set for Saturday, January 29 from 9:30 a.m. to 11:30 a.m., Coffee and Cub Conversations will feature a special roundtable discussion with curators, veterinarians keepers, moderated by Atlanta Journal-Constitution re Po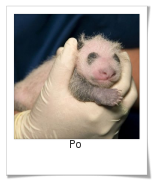 Po 201034 2010-Nov-03 Male Zoo Atlanta Zoo Atlanta Lun Lun - #452 Jiu Jiu - #461 rter Mark Davis. The program will be preceded by an exclusive silent auction of items and experiences that will only be available during Coffee and Cub Conversations. Although technically in absentia, the guest of honor and his mother, Lun Lun, will make appearances on camera during a rare Saturday PandaCam viewing for Coffee and Cub guests.
Space is limited, and advance reservations are encouraged. Discounted advance tickets are available online on zooatlanta.org: $20 for Zoo Members; $25 for non-Members. Tickets purchased the day of the event may only be purchased at Zoo Atlanta Admissions and will be $25 for Members; $30 for non-Members.
Saturday, January 29, 2011
9:30 a.m. to 11:30 a.m.
Conservation Action Resource Center (ARC)
Zoo Atlanta
800 Cherokee Avenue, S.E.
Atlanta, GA 30315"