Leading zoo officials have inspected the enclosure being built at Adelaide Zoo to house two giant pandas from China.
The enclosure will house pandas Funi and Wang Wang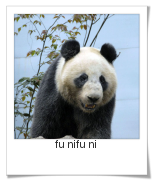 Wang Wang 网网 620 2005-Aug-31 Male WOLONG WOLONG Mao Mao - #504 , who are due to arrive from southern China late next year.
More than 300 conservationists are in Adelaide for the World Association of Zoos and Aquariums summit on climate change and endangered species.
Adelaide Zoo's director of conservation, Kevin Evans, says the guests have a wealth of knowledge about pandas.
"We have our colleagues from Bristol Zoo where the director (Dr Jo Gipps) there is the stud-book keeper for giant pandas internationally," he said.
"We have the director of zoology at London Zoo who (sic) are in the process of sourcing giant pandas at the moment and also the director of Taipei Zoo who will be receiving their pandas in the next couple of months.
"Having these fantastic colleagues here on our doorstep is a very rare opportunity, it hasn't really happened before to have all these experts come to Australia for this international meeting, so we'll be able to talk about all the challenges, it's fantastic."
Dr Gipps says the giant panda enclosure's design is impressive and should encourage the pandas to mate.
"If you've got a nice compatible pair of pandas, and these are two nice young ones who are coming, to grow up together and are compatible then I have no doubt that there'll be babies in the future," he said.