On October 14th, 2008, Osram China Lighting Ltd. comes to China Conservation and Research Center for the Giant Panda (CCRCGP) Ya'an Bifengxia Base and donates lamps to the center generously again. All the lamps are energy-saving. They are worth about 30,000 RMB in total. With the guide of Panda Club's employees, they visit the Panda Garden and have a close touch with a panda cub.
In July, 2007, Osram China Lighting Ltd. signed an agreement with Wolong Panda Club to adopt 3 panda cubs of CCRCGP for life time. They named the pandas Ou Ou, Si Si and Lang Lang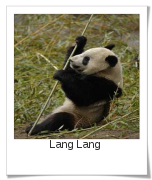 Lang Lang 朗朗 642 2006-Aug-25 2010-Dec-18 Male NANJING WOLONG Ye Ye - #495 . Besides, they donated energy-saving products worthy of 10,000 RMB to the center. The lamps did not only play an important role in lighting the giant panda's habitat and the nearby area, but also in the lighting of Wolong's earthquake relief work since Wenchuan great earthquake on May 12th. What's more, Osram established "Ten Fen to Care About the Giant Panda" fund, that is, as long as they sale an energy-saving product, they will donate ten fen(0.1 RMB) to the fund.