On January 10th 2011 at Lancaster House in London, the Royal Zoological Society of Scotland and the Chinese Wildlife Conservation Association sign an agreement which will see a pair of Giant Pandas arriving at Edinburgh Zoo hopefully late this year or early next.
The BBC has reported that the pair Yang Guan (Male) and Tian Tian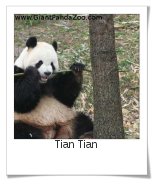 Tian Tian 甜甜 569 2003-Aug-24 Female EDINBURGH Beijing Zoological Gardens Nu Nu - #421 Ying Ying - #369 (Female) both of who were born in 2003 have been chosen to move to Edinburgh.
It has taken nearly 3 years to come for the Zoo and China to come to agreement.
I'll update with more information as soon as I can.
Well done to everyone involved. I can't wait to go visit them.
It appears that the pandas names will be changed and the public will be able to take part in naming them.