Zoo Atlanta have revealed that the only Giant Panda Cub born in America this year to Lun Lun is a boy.
It's re Po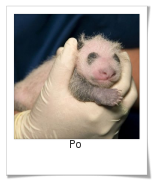 Po 201034 2010-Nov-03 Male Zoo Atlanta Zoo Atlanta Lun Lun - #452 Jiu Jiu - #461 rted that the little bloke has a big belly and is already showing his black and white markings. It took veterinarians around two weeks before they could safely examine the cub, away from Lun Lun who is very protective of him.
He is Lun Lun's 3rd cub mate Yang Yang, the first two being Mei Lan and Xi Lan. The cub is yet to be named as Chinese tradition states that a child is not named until they reach 100 days old.
It is expected that he will go on public display for the first time some time in late February or early March.