Yang Guan and Tian Tian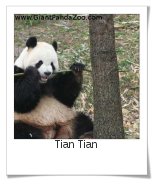 Tian Tian 甜甜 569 2003-Aug-24 Female EDINBURGH Beijing Zoological Gardens Nu Nu - #421 Ying Ying - #369 the two pandas who will be arriving at Edinburgh Zoo any time now, have been given their own Scottish Tartan.
The Scottish tartan goes back hundreds of years as a way of identify members of a clan. The new panda Tartan is primarily made up of black and white the colours of the panda with some gray to soften it, there is also red which symbolizes China, and green to represent bamboo the pandas main food source.
The Tartan can only be manufactured by express permission of Edinburgh Zoo. I'm guessing there will be lots of clothing and other articles available at the zoo made in the tartan.
There is still no word of when the pandas will be arriving at the zoo, but it is expected some time this month or next.